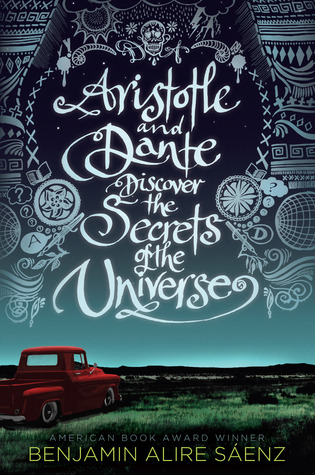 Series: Aristotle and Dante Discover the Secrets of the Universe
Author: Benjamin Alire Saenz
Page Count: 359
Published: February 21st, 2012
Publisher: Simon & Schuster Books for Young Readers
3 Stars ★★★
Aristotle doesn't have many friends. A fifteen year old boy living in Texas, the summer provides a welcome break from school. He meets Dante at the pool, when he offers to teach Aristotle how to swim. They start a close friendship that both will cherish and that will withstand misfortune, distance, and growing up.
The main characters in this novel, Aristotle and Dante, were definitely enjoyable to read about. The story itself is told through Aristotle's eyes, so the reader gets to know him a bit more than Dante. Aristotle is surprisingly mature for a fifteen year old, and he's dealing with his own issues at home, including his father's memories of the war, and his brother's absence. Dante, on the other hand, seems to have a simpler life, with a professor for a father and, as with Aristotle, a Mexican identity.
However, this book didn't really have a plot. The whole thing seemed more like a journal written by Aristotle than a novel. There didn't seem to be any main story line besides growing up, making friends, and discovering oneself. I personally prefer books with more defined plots, lots of action, or at least a central conflict. But this book lacked these elements. Even as a contemporary novel, it was almost boring at times in comparison to other contemporary books.
The dialogue between Aristotle and Dante was, in my opinion, unrealistic. Sure, they can be mature for their age. But the way they were speaking didn't seem typical of fifteen year old boys, even mature ones. I felt like I was reading dialogue between two university students, at times. While I'm not a fan of stereotyping people, particularly based on one's age, there's no denying that the behaviors common in teenage boys generally do not include pseudo-philosophical ideas or flowery language, as observed in this novel.
I can't say too much about the ending of this book without spoiling it, but I will say that I think the ending was rushed and unrealistic as well. Very little, through Aristotle's eyes and thoughts, was expressed throughout the book to even hint that the book may end this way. Considering that it concerns a fairly important part of Aristotle's identity, I was really disappointed that the book ended this way, or, that the author failed to include any hints or ideas throughout the book that may have pointed to such an ending.
On the positive side, I will say that I appreciate that this book tackled some tough subjects such as hate crimes, and it did so pretty well. I found myself devastated when one of the characters found themself targeted by bigots, and Aristotle's descriptions of the situation really tugged at my heart.
Overall, a contemporary novel with some interesting characters, but it falls short. There was lots of potential for this book to be absolutely, five-star level amazing, but the lack of concrete plot and unrealistic dialogue took away from my reading experience.
I recommend this book to fans of young adult books, contemporary novels, and stories about friendship.
Find Aristotle and Dante Discover the Secrets of the Universe on Goodreads