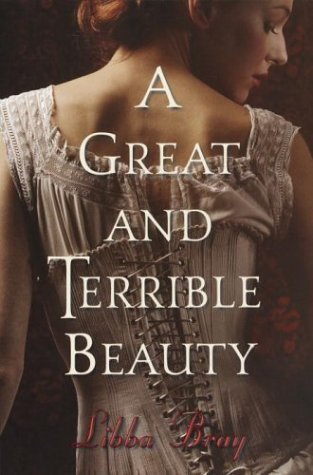 Series: Gemma Doyle
Author: Libba Bray
Page Count: 403
Published: December 9th, 2003
Publisher: Simon and Schuster
5 Stars ★★★★★
Gemma has a vision of her mother's death which comes true. She moves from India to England, where she is enrolled in a boarding school with a burned up East Wing, snobby peers and an outcast roommate. She finds that a boy from India, Kartik, has followed her to England, and he warns her about her visions which continue to baffle, frighten and intrigue her.
She forms a group with a few of the girls from her school and they call themselves the Order, after the mysterious organization somehow tied to a strange journal and her own dead mother. But as Gemma delves deeper into her own abilities and includes others in her secret, she puts herself and everyone else at risk.
Once again, I've found myself surprised that I've enjoyed a historical fiction so much! Despite Gemma and her peers living in a different time with different issues and worries, I was able to connect with the characters and care about what they were going through, and I feel like this made this book all the better. I was often really angry at what they had to deal with, especially since they lived in a time when women were treated like less and their wishes were ignored. I did dislike some of the characters, for example, Gemma's brother for being so misogynistic and snobby, but on the plus side, the author did a great job of making me feel like I was in the era that Gemma and the others were living in.
I feel like there was a lot of suspense in this book and that kept me reading. I really wanted to know what was going to happen to the characters, both in their normal lives and in terms of the powers and realms of which Gemma had introduced to them. Their personal situations were just as gripping as the mystical dilemmas they had to sort out, and because of this I was reading this book whenever I could!
While the writing style took some time to get used to, I found it flowed extremely well and that Gemma's voice as a narrator was entertaining and easy to follow. Her emotions, especially considering her mother's death, her family in general and her friends' problems were well conveyed and made the situations seem more real and believable. There were some humorous parts within the story as well, like when the group uses their new powers to prank others, and this provided a nice break and variety from the general dark atmosphere of the story.

There wasn't really much romance within the novel except for a few minor scenes. However, I don't feel that they were very relevant to the plot. I usually prefer reading books with lots of romance but this one entertained me even without a romantic aspect which I am very impressed with. I'm glad that I already own the second book, and if I didn't it would absolutely be on my list of sequels to buy as soon as possible.


I definitely recommend this book! YA readers and those who like historical fiction should read this. If you like books about magic and mystery and you want something that will keep you hooked, this book is for you.