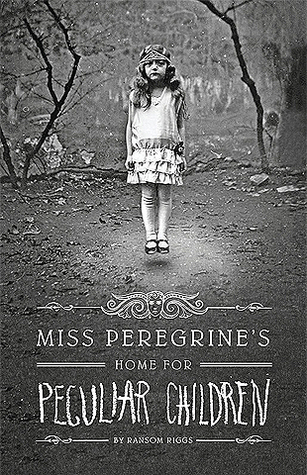 Series: Miss Peregrine's Peculiar Children
Author: Ransom Riggs
Page Count: 352
Published: June 7th, 2011
Publisher: Quirk
4 Stars ★★★★
Jacob's grandfather has always told him stories about the people in the strange photographs he owns, and after a while, Jacob realizes that these stories are only fairy tales and that his grandfather's condition may be getting worse. One day, he gets a panicked call and later finds his grandfather dead, after seeing a horrifying creature that his friend claims wasn't there. He and his therapist come to the conclusion that the creature isn't real, that Jacob is just dealing with a lot of stress, and that it would be a good idea to go to the island where his grandfather sought refuge in the war.
He travels with his father, hoping to find out more about his grandfather's past. When he comes across a ruined house and a small, rather unlikable village, he soon learns that things are not as they seem, and that the strange people in his grandfather's photographs may still be alive after all these years.
I couldn't resist buying this book when I found it at the thrift shop. With the film coming out and seemingly everybody talking about it, I had to know if it lived up to the hype. I can't say that I share the same enthusiasm as many fans of the series, but it was very enjoyable, to say the least.
This book didn't blow me away, it didn't amaze me and it didn't seem entirely original. However, the mix of time travel, supernatural or paranormal powers and some sort of evil monster coming after the characters made this book an intriguing read.
There were several smaller twists throughout the book, however my favourite one took place near the end and I definitely did not see it coming! Those are my favourite kind of twists, and I was very satisfied with it.
However, I feel that the pacing of the events was a bit uneven and disappointing. The start of the book seemed to fly by very quickly, then the middle dragged on for a bit, and finally the ending flew by just as the start had. It took me quite a while to get through the middle portion, and at times I felt bored.
I honestly think that the best part of this book is the photographs. They're weird and creepy! They added a lot to the story, and I liked how they were integrated into the book and writing itself. They weren't just random photos, they tied into the story. I spent a lot of time looking them over, sometimes wondering if clues were hidden within the photos. I wish there had been more photos!
While this book was enjoyable, I don't think that it lived up to the hype. I liked the story and the pictures were a fun addition, but I'm not sure if I will read the sequel.
I recommend this to those who like time travel stories and YA books with creatures and people with strange powers.