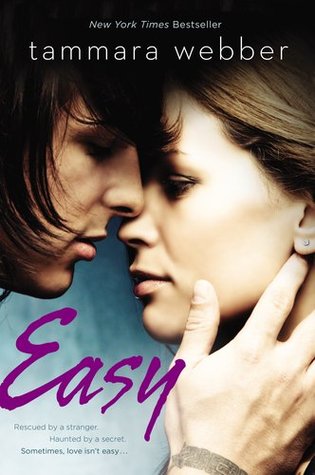 Series: Contours of the Heart
Author: Tammara Webber
Page Count: 336
Published: November 6th, 2012
Publisher: Penguin Berkley
4 Stars ★★★★
Jacqueline is a student in university, a musician, and dating her long-time boyfriend, Kennedy. That is, until he breaks up with her. When she is attacked at a party by one of Kennedy's friends, she is rescued by Lucas, a tattooed "bad boy" who happens to be in her economics class.
Her friends push her to use Lucas as a rebound hook-up, which happens to be really easy, because it turns out he has feelings for Jacqueline. But the person who attacked her that night isn't giving up on hurting Jacqueline, and Lucas is not as honest as he seems.
Overall I really enjoyed this book, and it was almost a five star read for me. It was interesting from the start, as the attack and meeting Lucas happens within the first few chapters, and the rest of the plot continues to develop at a steady pace from there. I was certainly never bored. I found the romance between Lucas and Jacqueline sweet yet complicated, with a great evolution from lust to actual genuine feelings for each other.
However, a few things prevented this book from getting a five star rating from me. First, I didn't like Jacqueline very much. I didn't hate her or anything, but she definitely doesn't fall into my list of favourite characters. I feel like she was kind of judgemental at times, particularly based on peoples' appearances, and while nothing she thought or said seemed outright rude, I just got a really judgemental vibe from some of the stuff that she said.
I also think that the author failed to portray Lucas as a "bad boy". I'm pretty sure that this was the image she was going for, considering the way that the characters continually refer to Jacqueline's quest to hook up with Lucas as "Operation Bad Boy Phase". At one point, Jacqueline actually thinks "he was cocky and self-assured" (pg 65). Self-assured, sure. But cocky? I just didn't see that in him.

I feel like the author used stereotypes, such as tattoos and piercings, to try to frame Lucas as some type of rebel or bad boy, but it really didn't work. His actions, aside from keeping secrets and some deceptive behavior, was respectful, flirty, and implied intelligence and artistic talent. Sure, he certainly wasn't perfect, and had his faults. However, he did not, in my opinion, fall into the "bad boy" category. I think that this was a case of trying to develop characterization through "telling" or thoughts, as opposed to the actual actions of the characters, which I really don't like in a book. As for Lucas himself, and the way I perceived him, I actually really liked him.
In the end, while this was an enjoyable book, it failed to get five stars from me because I didn't exactly like Jacqueline, and Lucas didn't come across as Jacqueline and her friends claimed they perceived him.
I recommend this book to those who like contemporary romances. If you're into new adult books and aren't sure what to read next, this would be a great choice.