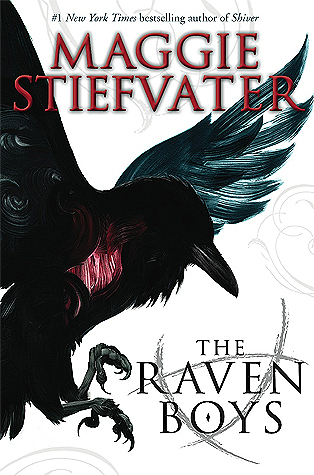 Series: The Raven Cycle
Author: Maggie Stiefvater
Page Count: 416
Published: September 18th, 2012
Publisher: Scholastic Press
3.5 Stars ★★★


Blue's mother is psychic, and she lives in a house with a few other psychics, too. While Blue can't speak to the dead or see the future, she enhances the powers of those around her, so she's brought along so that those who will be dead within the next year can be identified. Among the dead is a boy from Aglionby, a nearby private school, and Blue can see him.

Blue has always been warned that she will cause the death of her true love, and after seeing the spirit of this boy, she wonders if she will be the one to kill him. When they finally come face to face, they form a friendship, along with three other boys from Aglionby. Together they investigate mysterious ley lines, with the hope that they may be led to Glendower, a sleeping king.


There seems to be a lot of hype around this book, but I didn't really enjoy the book as much as other readers have. It wasn't a horrible book by any means, but I was fairly disappointed in some of the elements.


One thing that I did like were the characters. Actually, I loved the characters. Blue was an eccentric and likeable main character, and Gansey's determination to find Glendower was admirable. Rowan, another of the raven boys, was truly frustrating, but I loved him. Adam, a scholarship student, lived in a tough situation and very much served as a juxtaposition or foil to the rich, fairly comfortable life of Gansey. As for Noah, the last raven boy, he was quiet, sweet, and mysterious in his own way. These characters worked so well together to bring this story to life, and they were written with a depth that made me pleasantly surprised. Despite my issues with other pieces of this book, I may continue reading the series just so I can read more about these characters!


The plot was a bit too slow, in my opinion. I would find myself bored for entire chapters, only reading to find out when the next interesting issue would appear. It feels like I only read half a book, really. While the conclusion was a great cliff-hanger type situation, the lack of truly exciting plot points in this book was disappointing.
Not to mention my confusion about what went on at the end. I mean, there are cliffhangers, but then there are seemingly random occurrences, and this book combined these. The cliffhanger made me want to read the next book, but only because I need answers. What happened at the end? How is it all connected? While this would usually be seen as a good thing, I was more frustrated than excited to get my hands on the second book. Maybe I missed something, but some of the events in the last third of the book just seemed out of place.

Overall, I didn't like this book as much as I had hoped to. The ending was a cliffhanger, but it was also really confusing. However, the amazing cast of characters has me considering buying the second book in the series, because I need to know how their story continues.
I recommend this book to fans of young adult paranormal books. If you like slower paced novels with likeable and unique characters, this book is for you.