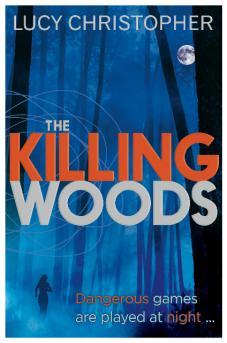 Series: N/A
Author: Lucy Christopher
Page Count: 369
Published: October 3rd, 2013
Publisher: Chicken House
3.5 Stars ★★★
Emily's father is accused of killing a teenage girl when he comes home with her dead body one night. Emily's "friends" turn on her, and Damon, the boyfriend of the girl who was killed, is angry at Emily and Emily's father for what happened.
A war veteran with PTSD, her father's lawyers say that he might have had a flashback, killing the girl not on purpose, but in a horrible accident. But Emily is determined to find out the truth, which takes her into the woods where the girl died.
I enjoyed Stolen by Lucy Christopher, so I was excited to see that she wrote a thriller! This book really was nothing like Stolen, but enjoyable in it's own way. However, I was slightly disappointed.
I liked the way that the issue of Emily's father suffering from PTSD was added into the narrative. It made me wonder if he truly was innocent, or if he had killed the girl, either by accident or not. It added to the mystery! I suspected many different people throughout the book, but I must say that the big reveal was truly surprising for me.
I loved the woods. The descriptions of the woods throughout the book made them sound beautiful and creepy and menacing and mysterious all at once! I found myself wanting to visit these woods. Emily's father's bunker in the woods was another interesting location, with a bit of mystery and a possibility of sinister happenings. The setting was truly the strong point of the book, in my opinion.
I feel like sometimes the characters did not act realistically. For example, Emily's "friends" turning on her after her father is suspected of the murder. It's not like she was going around defending murder! She was just hopeful that her father was innocent...wouldn't anyone be? Yet those she trusted became nasty towards her. It seemed very out of place, like an extreme reaction, especially since I'd consider a friend in that predicament as a friends in need of love more than ever. Maybe I'm just too nice or naive.... but that's how I interpreted the characters' actions. Unrealistic.
I also wish that this book had a bit more creepiness in it. There definitely was some, especially with the setting of the woods. But there should have been more clues adding to the mystery. I would have liked more big reveals! More twists and turns!
This was an enjoyable book. However, something was missing.... the characters seemed a bit off, and I wish the author had added a big more creepiness to the story. However, the setting was marvelous.
Find The Killing Woods on
Goodreads
~~~~~
Series: Low Red Moon
Author: Ivy Devlin
Page Count: 244
Published: September 14th, 2010
Publisher: Bloomsbury USA Childrens
2.5 Stars ★★
Avery's parents were murdered. She doesn't remember much about that fateful night, except that she was covered in their blood, and she saw a flash of silver. Leaving her house in the woods to go live with her grandmother, she is haunted by her parents' deaths.
Ben is a new boy at school. Despite her being called "cursed" due to the blood-red pieces that appeared in her hair, he is drawn to her, and her to him. Soon, Avery learns that the legends of wolves, who are more than merely wolves, are true, and that something evil is after her.
So this book had a few good things. First off, the mystery of who murdered Avery's parents. Really, that's the main thing that kept me reading. I also felt some empathy towards Avery's character as she struggled through the difficult time after their deaths, trying to untangle her memories and remember her childhood home in a more positive light.
The rest of the book wasn't all that great. Ben was just a pretty face. Literally. I had no clue who he was as a person besides pretty and caring about Avery. He needed wayyyyyyy more character development.
Then there's the romance between Avery and Ben. While their attraction is more of a paranormal or supernatural nature, it still bothered me how Avery literally falls for Ben after her parents are barely dead. And it's not a slow, building attraction. No, and a slight spoiler alert here, but she kisses him after visiting her childhood home in the middle of the night! And he's there with no explanation! I feel like the traumatic memories of her dead parents would probably overshadow her crush on this pretty boy but I guess not....
This book had a lot of potential. If it had been longer, it may have been a lot better. The author needed to develop the character a lot more, and the romance needed more development as well. Not to mention, the ending....very unsatisfying, in my opinion.
I'd also like to mention that the sequel, Moonrise, doesn't appear to be available anywhere so...if you wanted to read the sequel, you've run out of luck.
Overall, disappointing. I liked the murder mystery and Avery's struggles with coping with her parents' deaths, but the book was too short and the romance was not at all believable.